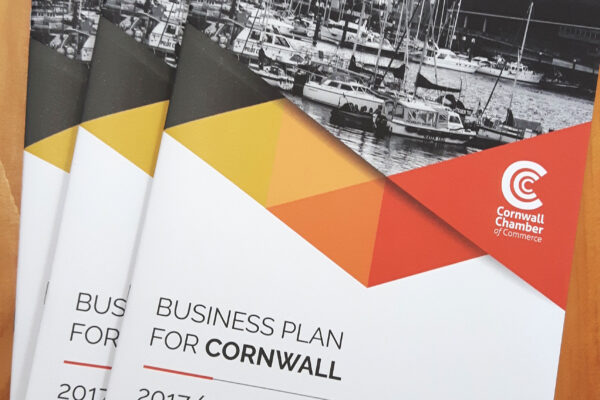 We were delighted to assist with the design and print of this year's Business Plan for the Cornwall Chamber of Commerce, which was launched at this year's Cornwall Business Fair.
Dr Adam Marshall, Director General of the British Chambers of Commerce, was keynote speaker at the launch and praised the document which explains how business in Cornwall and the Isles of Scilly can rise to meet the challenges of these uncertain times.
The evidence for the 2017 /18 Business Plan was gathered through online and telephone surveys of businesses in the Duchy and via consultation with a number of the Chamber's forums, including the Large Enterprise Action Group and Cornwall Lenders' Forum. The plan, which focuses on key areas such as skills, employment and infrastructure, not only makes calls for the conditions the Chamber believes business needs in order to flourish, but also outlines what business itself can contribute.
Cornwall Chamber Chief Executive, Kim Conchie, said:
'Thank you to Eight Wire for all their help and input with the Cornwall Chamber of Commerce 2017 Business Plan – we are really pleased. It has been received very well and will undoubtedly form a major part of our profile and positioning during the next two years.'
We were pleased to assist Cornwall Chamber of Commerce with the delivery of this important document and look forward to working together in the future.
Click here to see further examples of our design for print work.